DISCLAIMER: this not medical advice. This content is only for informational purposes only. Please do your own research and consult with a healthcare professional.
---
No one wants to live with back pain.
So, if you have back pain, you're looking for answers.
Of course, you'll want to ask yourself what's causing your back pain and try to fix that.
But, that will probably take time. What are quick fixes you can do now?
Here are five easy, home remedies to quickly relieve back pain.
#1 – Learn how to use a TENS unit.
What the heck is a TENS unit? Great question.
TENS stands for transcutaneous electrical nerve stimulation. In plain English, this means that TENS units stimulate your nerves by sending small amounts of electricity through your skin. If you're having back pain, then you'll use this electric current to stimulate nerves around lower back.
Don't freak out – the amount of electricity is small and painless. In fact, TENS units are typically battery-operated and highly portable.
So, how does a TENS unit help relieve back pain? Cleveland Clinic provides us with two working theories:
Distraction: the electric current may interfere or mask the nerves that are sending pain signals.
Endorphins: there is speculation that nerve stimulation raises endorphin levels; which is a natural painkiller. In this sense, you can think of TENS units working similar to back or head scratching.
It's worth noting that scientific studies on TENS unit effectiveness for relieving pain are mixed. But, this doesn't mean that TENS units don't work.
Anecdotally, we think they work. My wife, who gave birth without an epidural to a nearly ten pound baby, said she could not have done it without the TENS units. What's more, we've consulted a physical therapist who uses TENS units regularly in more than forty years of practice.
If you're the type of person that researches anything in medicine, you know that studies are often inconclusive even when you could easily infer an answer from plain knowledge of the human body.
So, if you need quick back pain relief, then you may want to consider a TENS unit.
#2 – Use heating pads (they're not a gimmick).
Heat packs are well-known as a treatment for back pain (hey, Shaq!).
But, do they really help?
The answer is yes!
As Healthline notes, heating pads can help reduce pain by:
⬆️ nutrients in affected area: in response to heat, your body increases blood flow to the area to cool you down. This extra blood means more oxygen and nutrients for whatever hurts.
⬇️ muscle stiffness: more heat to an area means more relaxed muscles… and this often means less stiffness which further decreases discomfort.
Heat therapy is so effective that the American College of Physicians recommend it as a first treatment for acute lower back pain.
So, some heat therapy might be a good idea. What heat pads should you use?
We have two recommendations (neither include nasty chemicals, by the way).
Best On-the-Go Heat Pad: ThermaCare
The ThermaCare heat pads are our favorite for on-the-go back pain relief because its heat is strong and lasts for up to 16 hours! You can wear the pads for a whole day and the patented tech will keep radiating heat to sooth your muscles.
Best Home Heat Pad: REVIX
If you're not on-the-go, then a reusable & microwaveable heat pad like REVIX will save you a lot of money. Plus, you can also freeze it and use it as a cold pack as well.
#3 – Mini back bends.
This is the simplest & easiest home remedy.
Basically, if your back is hurting, it's very possible that this is caused by a bulging disc (please read our article on ten common causes of back pain).
You can often help a disc back to its right place by gently doing a few mini back bends. I'd give you instructions but it's easier just to see it. So, here you go.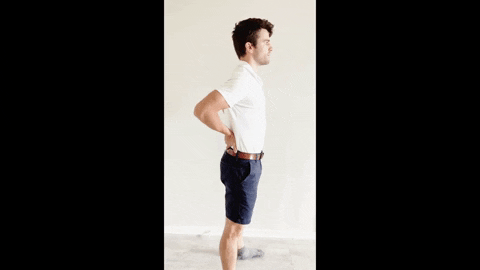 #4 – Use ice packs designed for your back.
Although heat can help relieve muscle stiffness and sooth pain, ice is probably going to relieve your pain faster and stronger.
Ice helps relieve your pain by decreasing blood circulation through constricting your blood vessels. Thus, ice:
Reduces swelling: when joints or other tissues are swollen, this often causes pain and all kinds of "-itis" ailments (ex: tendonitis).
Numbs area: the reduction in blood supply can actually numb the entire area; thus quickly reducing your pain.
OK, two last points:
Don't ice before activity: icing your back can cause temporary muscle stiffness. You don't want that if you are about to do an activity. So, make sure to take it easy after or during your icing session.
Don't ice too long: most healthcare professionals recommend icing for no more than twenty minutes at a time. Icing for longer durations isn't very helpful and could even cause frostbite.
Get an ice pack designed for backs: if you are trying to use frozen broccoli to ice your pack, good luck. It's tough to keep frozen vegetables or generic ice packs applied to the right place on your back — even sitting in a chair can be tough. So, use an ice pack that's made for your back. We recommend The Coldest Water Ice Pack with Straps or even using the REVIX (which doubles as both an ice/heat pack).
#5 – Set movement reminders/alarms.
We say it all the time at Posturre: we were made to move.
Sitting all day can be really hard on all parts of your body (which is why standing desks are beneficial).
So, one final recommendation to quickly reduce muscle stiffness is to set movement reminders on your Fitbit or Apple Watch. These alarms will buzz your wrist each hour to remind you to move.
Ultimately, moving more can help reduce stiffness, increase flexibility, and provide a wide range of health benefits. It's worth starting today.
Conclusion
There are a lot of reasons you may experience back pain.
It's worth talking to a healthcare professional and thinking about why your back hurts. Ultimately, you'll want to fix the root problem (which could mean finding a better mattress or picking a better desk chair). But, until then, these simple home remedies may help reduce your pain.
As always, we've got your back.
Please review our FAQs and let us know if you have any comments/questions.
---
FAQs
So, if ice constricts blood supply… won't that slow down healing because it means less nutrients for my injured area?

Great question.

Ice does, at least initially, constrict blood supply to an affected area. However, after icing an injury, your body actually rushes blood to the area to ward off frostbite. Thus, after icing, your blood supply in your injured area may actually increase (along with all the nutrients and oxygen needed for healing).

So, besides offering quick pain relief, ice can also offer assistance with long-term healing. Just don't try to do anything active right after you've iced because your muscles will be too tight.
I think a standing desk would help me move more. Which one should I pick?

Standing desks can absolutely help you move more throughout the workday. However, there are literally hundreds of standing desks. Fortunately, we've done weeks of research and picked the best standing desks just for you. Check out our latest selections for the best adjustable standing desks.
I don't want a quick fix for my pain. I want to fix the root problem. What should I do?